Lansdale, PA Asphalt Paving Contractor
Asphalt Paving Services in Lansdale, PA
Lansdale, PA is a borough northwest of the city of Philadelphia in Montgomery County, in the great state of Pennsylvania. With a population of over sixteen thousand residents, Lansdale, PA is considered a densely-populated commuter town, with many of the residents traveling to Philadelphia daily through the SEPTA Regional Rail's Lansdale/Doylestown Line. Lansdale, PA is the center of the North Penn Valley, which is a region that includes the townships and boroughs surrounding the borough. The earliest of the Lansdale area were members of the Jenkins family. 
For the expert and experienced contractors here at Quality Paving & Concrete, no asphalt job is too big or small for our team. From handling pothole repairs in Lansdale to asphalt overlaying, we're fully equipped and qualified to handle the job! We've always made it our chief goal to provide top-notch customer service and ensure that our Lansdale, PA clients are always 100% satisfied with our asphalt paving projects. Get in touch with us now for the best Asphalt Paving Services in the Lansdale, PA area!
Lansdale, PA Asphalt Paving Contracting Company
If you need a professional asphalt paving company that can handle any job from asphalt resurfacing, overlay, or complete removal or replacement, expert contractors here at Quality Paving and Concrete are just what you need. We are a fully licensed Paving and Concrete Company in Lansdale, PA.  We work with you and your current asphalt situation and find what is the best approach for you after a thorough evaluation. Our elite contractors will guide you through each step of the asphalt paving process so that we can understand exactly what you are looking for in your asphalt paving contracting job. We will take care of the whole asphalt paving process. Our asphalt paving contracting experts are well-equipped with industry-standard asphalt paving contracting company equipment, and they're highly trained in all aspects of asphalt paving services. Receive a free quote on your asphalt paving services project in Lansdale, PA by calling Quality Paving and Concrete, the best Asphalt Paving Contracting Company in the Lansdale area!
Lansdale, PA Asphalt Patching Services
Keep new cracks from forming in your asphalt with high-quality asphalt patching in Lansdale, PA. Asphalt patching works to reduce the intrusion of water which can significantly extend the life of your asphalt.
Sealcoating Services in the Lansdale Area
Acrylic oil and water-based sealcoating solutions can help shield your asphalt from the deleterious effects of the elements and asphalt-eating fluids like gasoline or oil. Sealcoating services can help keep your asphalt healthy and vibrant for years to come.
Infrared Asphalt Repair in Lansdale, PA
Get your asphalt back in ship shape ASAP with infrared asphalt repair. Infrared asphalt repair prevents frayed edges that so often come along with cutting and replacing asphalt. Give us a call to find out if Infrared Asphalt Repair is right for you in Lansdale, PA.
Lansdale, PA Blacktop Paving Company
Quality Paving can get your blacktop pavement installed quickly and affordably. It is one of the most affordable, longest-lasting paving solutions we offer in the Lansdale area.
Commercial Asphalt Paving Company in Lansdale

For your Lansdale area commercial parking lot, our commercial asphalt paving company has you covered with quality and affordable asphalt paving services that are completed on time and at a reasonable price!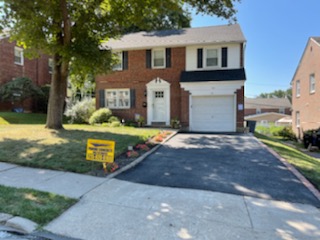 Lansdale area Residential Asphalt Paving Services
By seeking out a quality residential asphalt paving company like Quality Paving & Concrete, you can rest assured that your residential asphalt paving job will hold up for 15-20 years! Get your Lansdale, PA residential asphalt paving services handled by the best!
Municipal Asphalt Paving in Lansdale, PA

For affordable asphalt paving for a Lansdale, PA municipal lot, Quality Paving & Concrete is here for you! We strive to provide customer satisfaction with high-quality municipal asphalt paving services that don't break the bank!
Driveway Paving in Lansdale, PA

A quality driveway paving job can keep your driveway looking and performing great for decades. So save money and time in the long term by seeking out the quality driveway paving services provided by Quality Paving & Concrete in Lansdale, PA!
Lansdale Asphalt Paving Company
For residential and commercial asphalt paving services of all sizes in Lansdale, PA, we're the asphalt paving company for you! Whether you need industrial asphalt paving, commercial asphalt paving, municipal asphalt paving, or residential asphalt paving services, Quality Paving & Concrete is your best choice for Lansdale area asphalt paving services.
To meet our goal of providing 100% customer satisfaction for our asphalt paving services, we simply make sure to be the best asphalt paving company in the Lansdale area. By providing high-quality asphalt paving services at competitive rates, our asphalt paving company has become the go-to asphalt paving company in Lansdale, PA and beyond! For asphalt patching, sealcoating, blacktop paving, and more make sure you go to the best asphalt paving company in Lansdale! Give us a call today for top-notch yet affordable asphalt paving services in the Lansdale area!
Get a Quote For Your Project